Hampton Wick Royal Cricket Club
Bushy Park
Hampton Wick
Kingston Upon Thames
Surrey
KT1 4AZ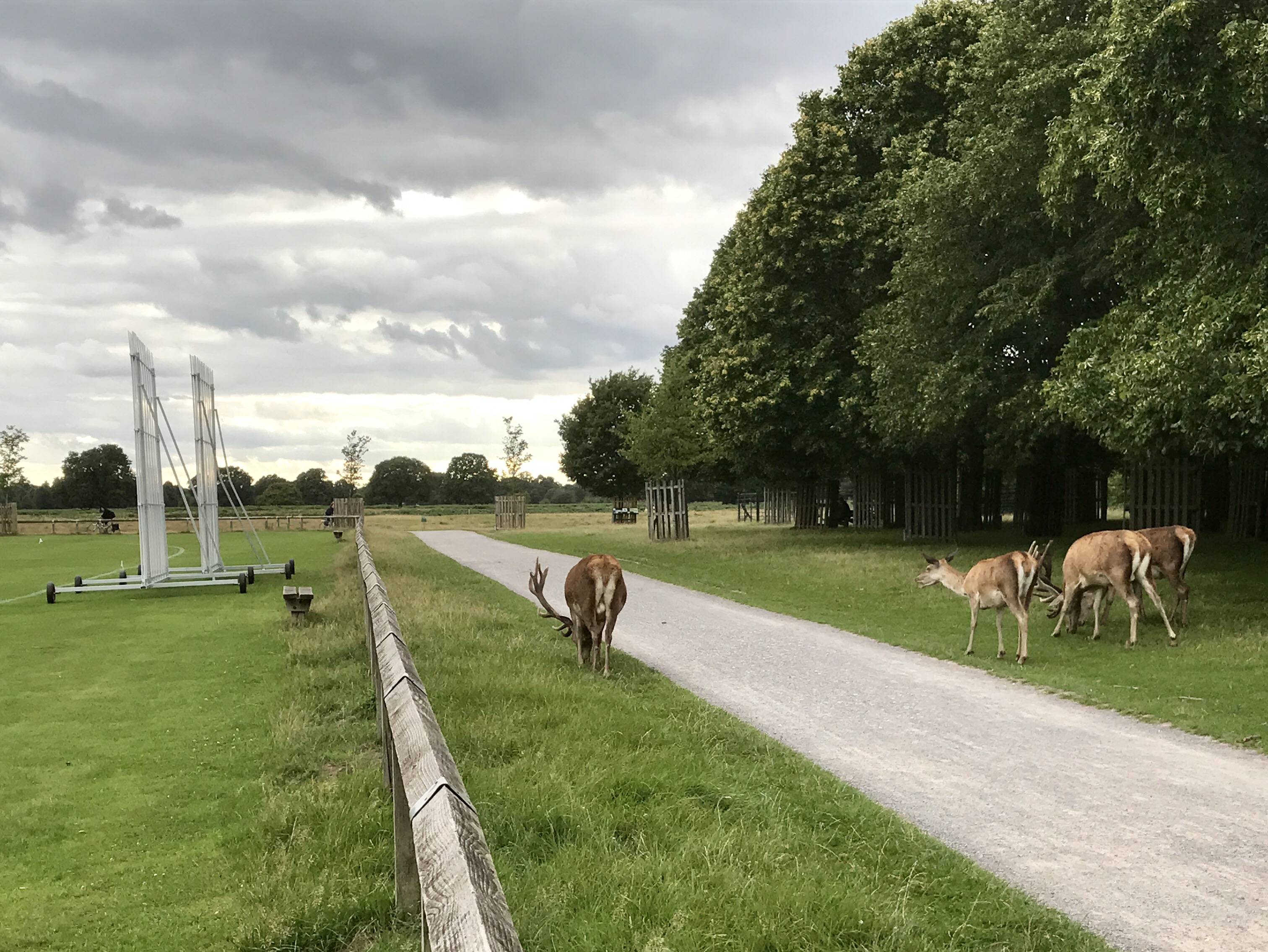 Match report away to Hampton Wick Royals 5th August 2018 – won by 5 wickets
This match was notable for Jess making her debut – a momentous day for Graces as in all our history we've unbelievably never had a female player represent us! Jess and her father Alban had come to watch us earlier in the season and Graces are delighted to welcome them into the club. We hope that Jess heralds a new chapter in the club's history and she plays many more games.
Graces seem to have fabulous weather whenever we venture south to leafy Hampton Wick and this Sunday was no exception as the heat wave continued. For quite a few of us this match is a season favourite as it's a lovely setting with fab hosts and a cracking tea! We hadn't beaten them for a few seasons and Graces were keen to maintain their good run. In Colin's absence Alban kindly scored (very neatly) for us.
The toss lost , unsurprisingly HW opted to bat in the baking sunshine – they usually field some promising colts and today at least 5 talented youngsters played against us. Captain Stuart chose a mixed bowling attack with Newton and Manish opening for us. Hampton Wick were soon in trouble at 14 for 2 after 9 overs. Alex edging to keeper Scott (a great catch) and young Will bamboozled by Manish's turn. The third wicket partnership steadied the ship taking the score to 52 before Imran edged to Scott off promising newcomer Ari. Jess bowled her first overs for us tidily especially as this was her first match playing against adults. She coped really well under this pressure.
Number 3 Dipesh after initially being cautious started to play his shots , the bone dry outfield leading to the ball racing away to the boundary. Graces continued to bowl well with Mendis and Arshad (a late arrival after some team selection confusion) the third change. No one was able to stay for long with Dipesh as he continued to entertain the spectators with his new bat. Hampton Wick were eventually all out for 161 in the 37th over with Dipesh being last out for 69. Newton , Manish and Arshad picking up 3 wickets each.
After a welcome tea (including a fine selection of sandwiches) Dom opened with Newton against Hampton Wick's youthful bowling attack. Good shot selection took the score to 49 before Dom was caught behind for 11. Newton soon followed mistiming and being caught for 30. After this slight wobble Leo and Mendis kept the scoring rate up before Leo was stumped for 14.
Jonners in at 5 played a supporting role until Mendis was caught behind for 29 – 107 for 4 after 26 overs. Ari (who apparently hadn't played for many years – hopefully we can make him a regular)) in at 6 took some time to find his batting feet then helped Graces towards the target with an entertaining 30 before being stumped. Jonners hadn't quite found his timing but was still there as Stuart came in taking us to the winning runs in the 37th over.
So a 5 wicket win and Graces retired to the cozy clubhouse for a well earned drink with our hosts. Once again our supporters turned out in force finding shady spots to watch the action.