HSBC sports ground  Lennard Rd, Beckenham BR3 1QW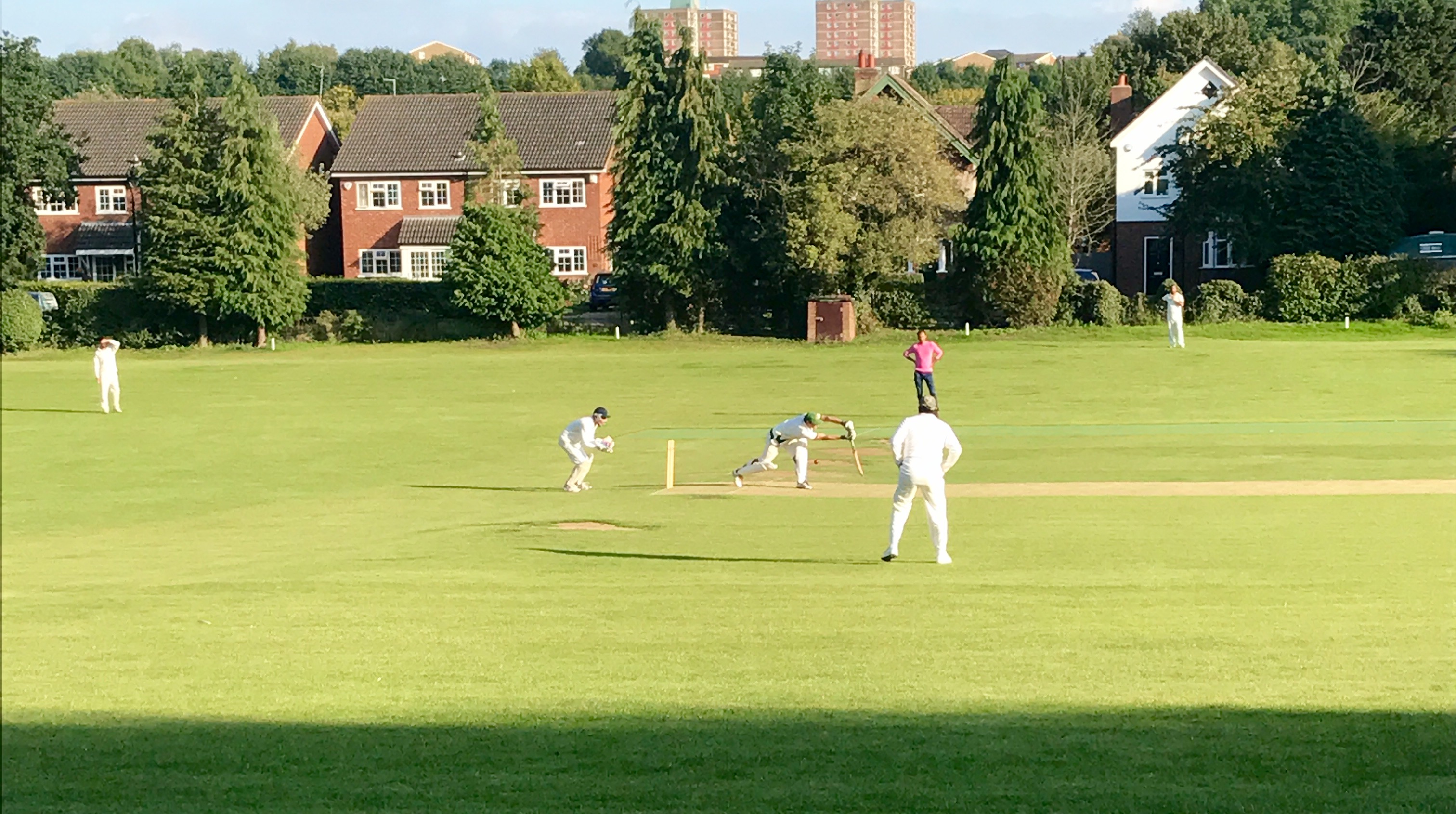 Match report v Addington 1743   3/9/18
won by 73 runs
Last week our trip to the HSBC ground was thwarted by the deluge – this week ,however, saw absolutely perfect cricket conditions as the uninterrupted sunshine was accompanied by 22 degrees.
For most of Graces this was our first time visiting or playing at the HSBC ground in Beckenham (many thanks to Sam & Mahender for getting us there) and we definitely want to return as it's a fab cricketing venue – we were on pitch 2 with our own cute pavilion (built 1913) in front of an immaculate outfield and perfect strip – we pushed the covers off before playing.
This was also our first time hosting Addington (reduced to only ten players), we have always previously visited their picturesque ground – Mahender calling the toss correctly deciding to have the first bat. Sam and Stuart duly opened – Sam unfortunately edged the very first ball to the keeper for a diamond duck – this is the second for Graces this season – difficult to recall any at all in previous seasons!
Mahender in at 3 continued with his attacking attitude and together with Stuart got the scoreboard ticking over nicely until Stuart was bowled by the ball unfortunately rebounding off him onto the stumps for 22 – 39 for 1 after 7 overs.
Mendis joined Mahender and these 2 added 97 for the third wicket in only 12 overs until the skipper was caught for an always entertaining 52 – he had been living dangerously having been dropped at least twice. 136 for 3 after 19 overs.
Mendis was next out with the score at 144 for another stylish 50  , Ari was soon bowled bringing Newton and Scott together – Addington were bowling better and when Newton was out for 29 we were 190 for 7 after 33 overs.  Manish contributed 14 and Arshed hit an unbeaten 23 taking us to 229 for 8 in our 40 overs. Would this be enough? After our last game there's no room for complacency.
We had another great supporter turnout (it was good to see Youseef again) who all joined us in the main clubhouse for a civilised tea.
Addington opened with Shafi (a centurion against us 2 seasons ago) and young Miah who had also opened the bowling. Newton and Mamun opened our bowling – Miah was bowled by Newton in the 9th over with the score at 21. Our bowling was accurate and at 20 over drinks our visitors had only reached 67. Ari and Arshad didn't bowl many bad deliveries and Manish was his usual niggling line and length. A highlight was a great one handed catch in the covers by our skipper.
Addington must have resigned themselves very early on that they were not going to reach 229 as Mr Shafi batted like it was a test match – he  was coming down the wicket to the slow bowlers but seemed unable to accelerate the score as the run rate climbed – he wasn't prepared to take any risks and after 30 overs Addington were on 105 for 3 , well behind. None of the visiting batsmen really got going and fours were a rarity as their final score was 156 for 7. Mahender had the luxury of being able to use 9 bowlers all of whom bowled well – Stuart had an over (despite his ban after Portugal!) and managed to pick up a wicket with what was the only straight delivery!
So another enjoyable game against sporting opponents  – let's hope we can get more games at this fab venue.