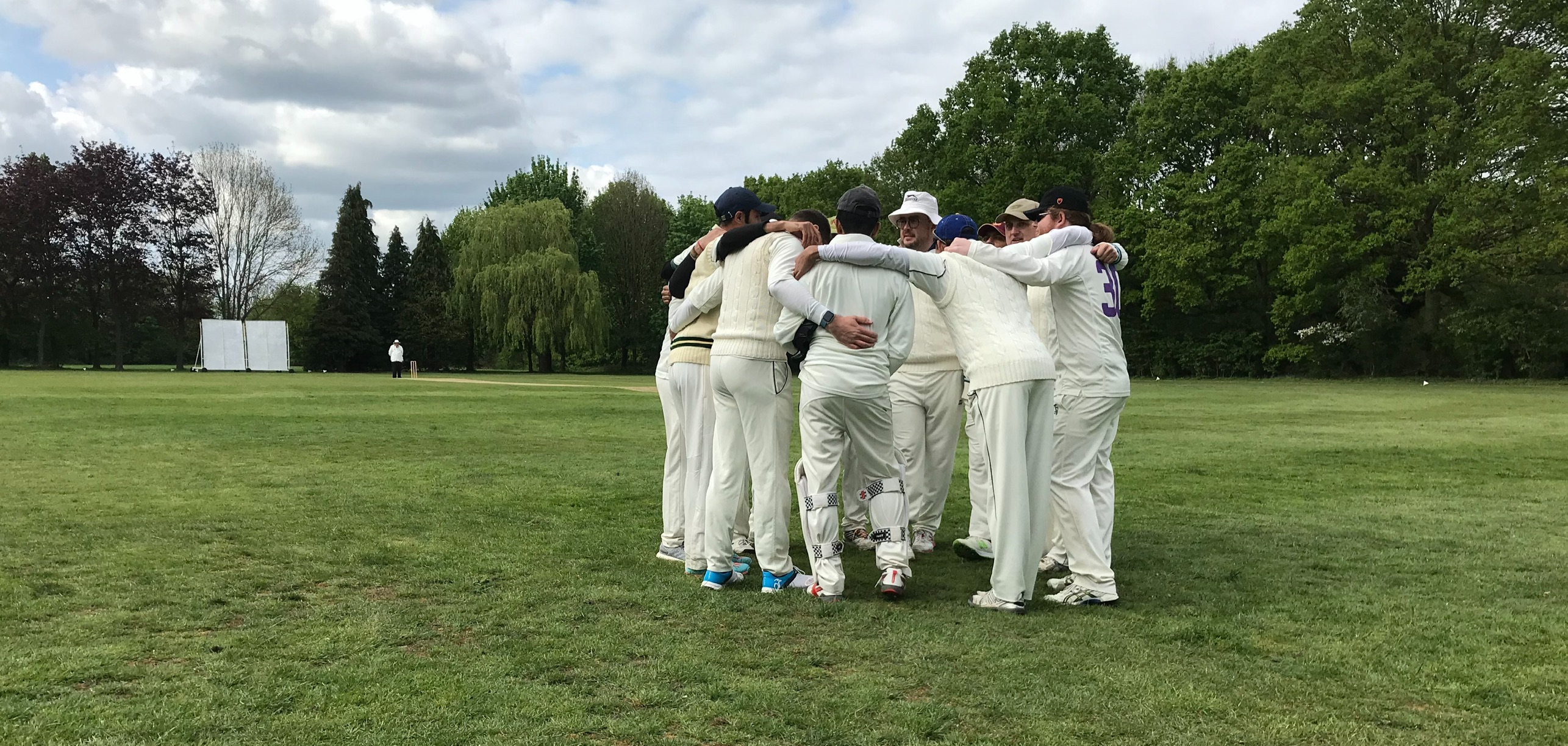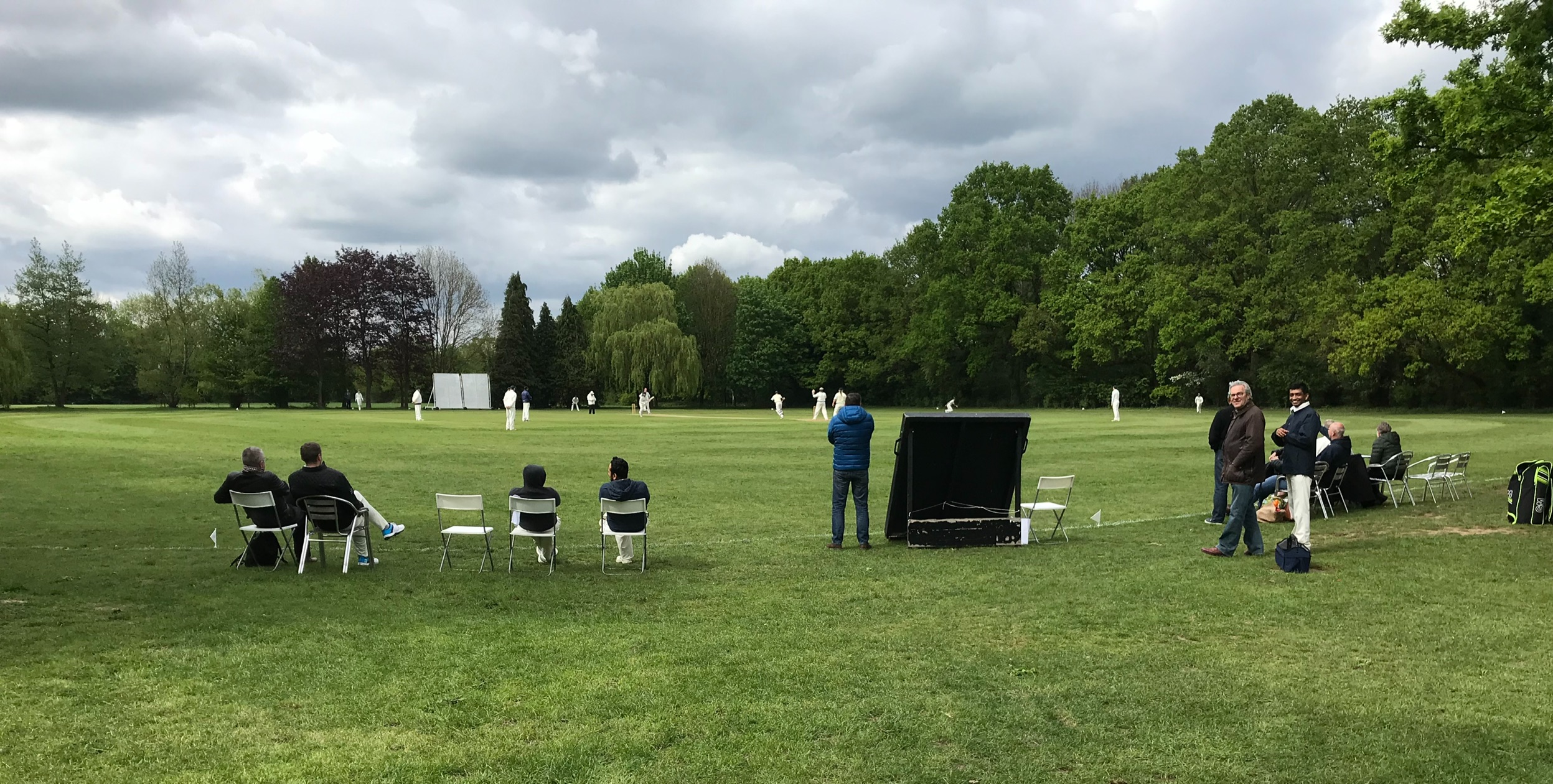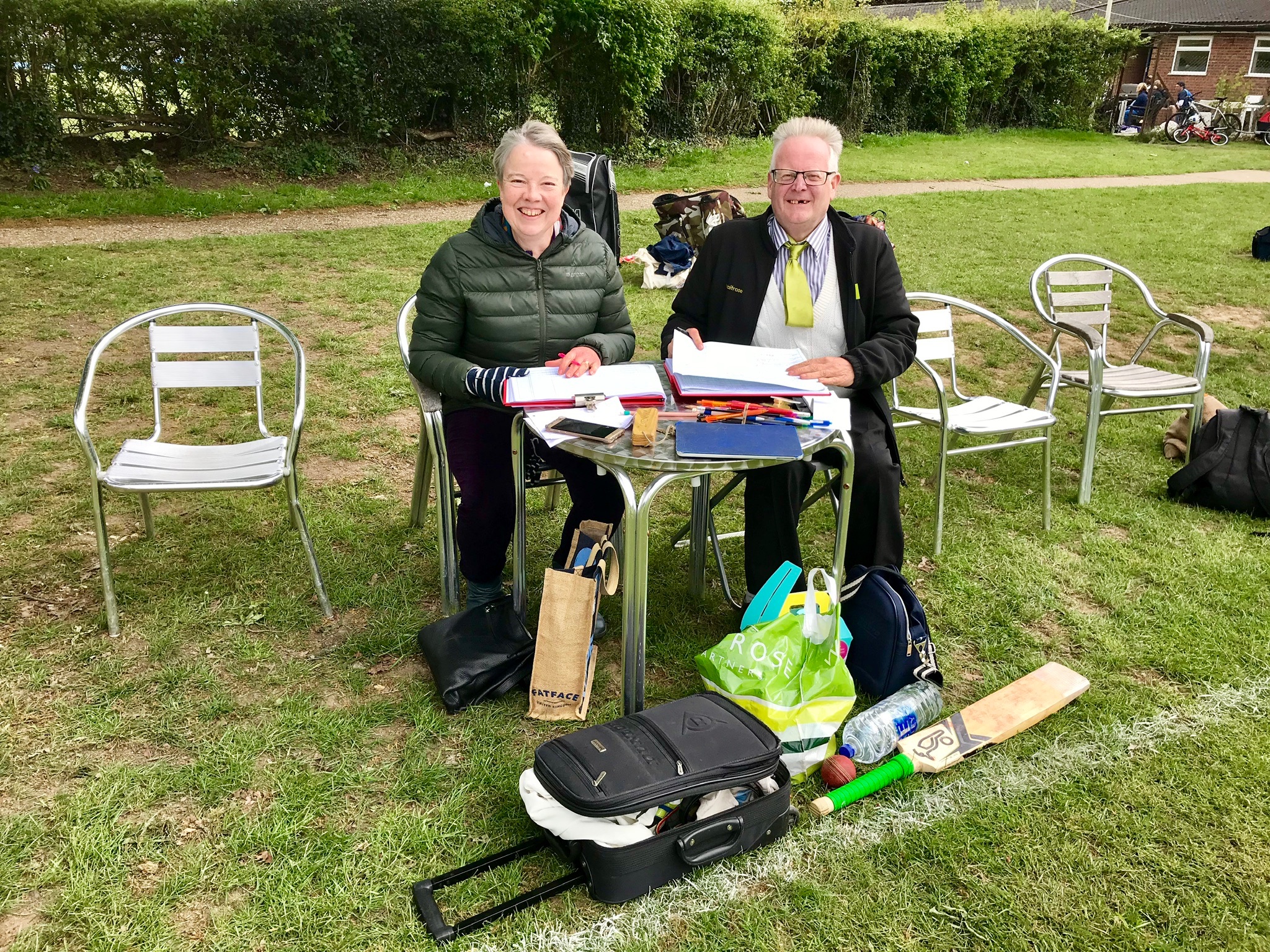 Oak Avenue
Ickenham
Middlesex UB10 8UT
https://www.ickenhamcc.co.uk/club-location
Graces return to Ickenham 
Oh how fickle the weather is in early season. Today was much cooler again with a wind but at least the rain held off but as we head into May it will surely become warmer. I was greeted today at the ground where we played the second pitch due to a girls league double match on the main one, by Ickenham reminding me that Manish (now our Captain for his first outdoor match this season) scored over 50 a couple years back with last year lost to weather. Well Manish did alright scoring 18 not out coming in at 10 but that is jumping ahead somewhat. 
Not sure who the match ball sponsor is yet this week but hope to update you soon especially for our league games next week onward we have to play with a certain quality so this sponsorship is a great help to the club. Thanks to Duncan for last week, when as you know from Jonners we had a comprehensive victory that was also rued in a podcast by the lads of I don't like Cricket (Cricket?) Club.
So having won the toss we batted first with a partnership of Niroshan who scored 8 off 27 balls in 42 mins before one got through and Stuart (though I am not to mention the Golden Duck bowled by left arm fast Captain Sarv). 
Newton paired up with Niroshan who was later bowled by Atkin who gave little away,starting with two maidens. The outfield was quite slow so runs were not easy to rack up and one ball hit Newton awkwardly then travelled up and caught his cheek so a helmet soon followed. He was undone by a ball that went up more than out and although dropped he was unsure where it had gone and with quick recovery he was caught out of ground.
It took 12 overs to reach 40 but then the pace changed with Mendis and Sanjeev striking a 6 with gusto and other boundaries. Uncle Albert was wickie for a couple overs and plentiful byes then Vrushant stepped in and took over, a big lad not wearing pads obviously and he caught Mendis behind but he had got a fine score of 27 and a second wicket for Sarv who finished his 8 overs at 27/2. By over 18 the score had doubled to 80 before 13 year old Orlando De Run in his first adult match took a great catch at deep mid wicket to send away Sanjeev on 20. Dom had been LBW off Marshall just before. Jeshant hit a confident boundary but then caught at Deep Cover with a tumbling catch from Dan Pope. Marshall had Scott LBW on another Golden Duck and it was not looking good but with Manish in support Leo opened up including a classic Long On 6 and more before he too was stopped on 27 with another catch from De Run. On his debut with us, Andrew was now in for 33 minutes supporting Manish before a call mix up had him run out to close the innings on 148 in the 38th. 
A lovely tea including plentiful home made cake by the long serving ladies refreshed all together with hot drinks to stay the chill. 
Robin of Ickenham umpired the whole match and for Ickenham innings he was joined by Ollie rather than successive rotations. Thanks also at this point to our James who kept the physical scoreboard updated throughout. Scoring was easier today as they had Caroline alongside and their Stuart around too.
Simon was another supporter visiting and Jonners travelled out to spend time with us and offer assistance. 
Newton and Sanjeev were our first bowlers and 11 in the first over was an indication that Dan Pope and James Hamilton signalled intent to wrap up quickly. Newton bowled James in the 5th to apply a brake but it was the 11th before Manish got Vrushant who was a slogger with 3 sixes, offering him up for Newton to catch confidently near Long Off but at a cost of 29. Young Orlando played for 25 minutes with much intelligent stroke play but lacked distance just yet but it gave Dan a chance to open up. He was run out being stranded when Dan changed his mind about running seeing a quick return coming in. During the match a few chances to catch were squandered but at other times there were determined stops and saved boundaries.
There were close calls with direct hits and batsmen just making home.  Ashik and Marshall accumulated very slowly and Albert failed to convert anything into actual runs before Niroshan caught well at deep cover. It was all about steady consistency from Dan who carried his bat to reach 89 and finally bring the score to 150 as late as the 31st as their pace was retarded by lean bowling from Manish, Mendis and Jeshant. Stuart took a catch running in to dispose of Ashik. Andrew had a couple of overs but this was when Vrushant was prolific. Keeping was Niroshan in the first 20 and Scott the balance. Our extras were half those of Ickenham but today we needed a lot more on the board and would only have earned two batting bonus points and two bowling points if this was a MEIL match.
Talking of which, our first game in league is next week at Chigwell. Might we bat for all maximum 50 overs? Will our bowlers bring about a victory or force a draw! Come and Find Out, match starts at 1.00 pm and must finish by 18:30 or very soon after.