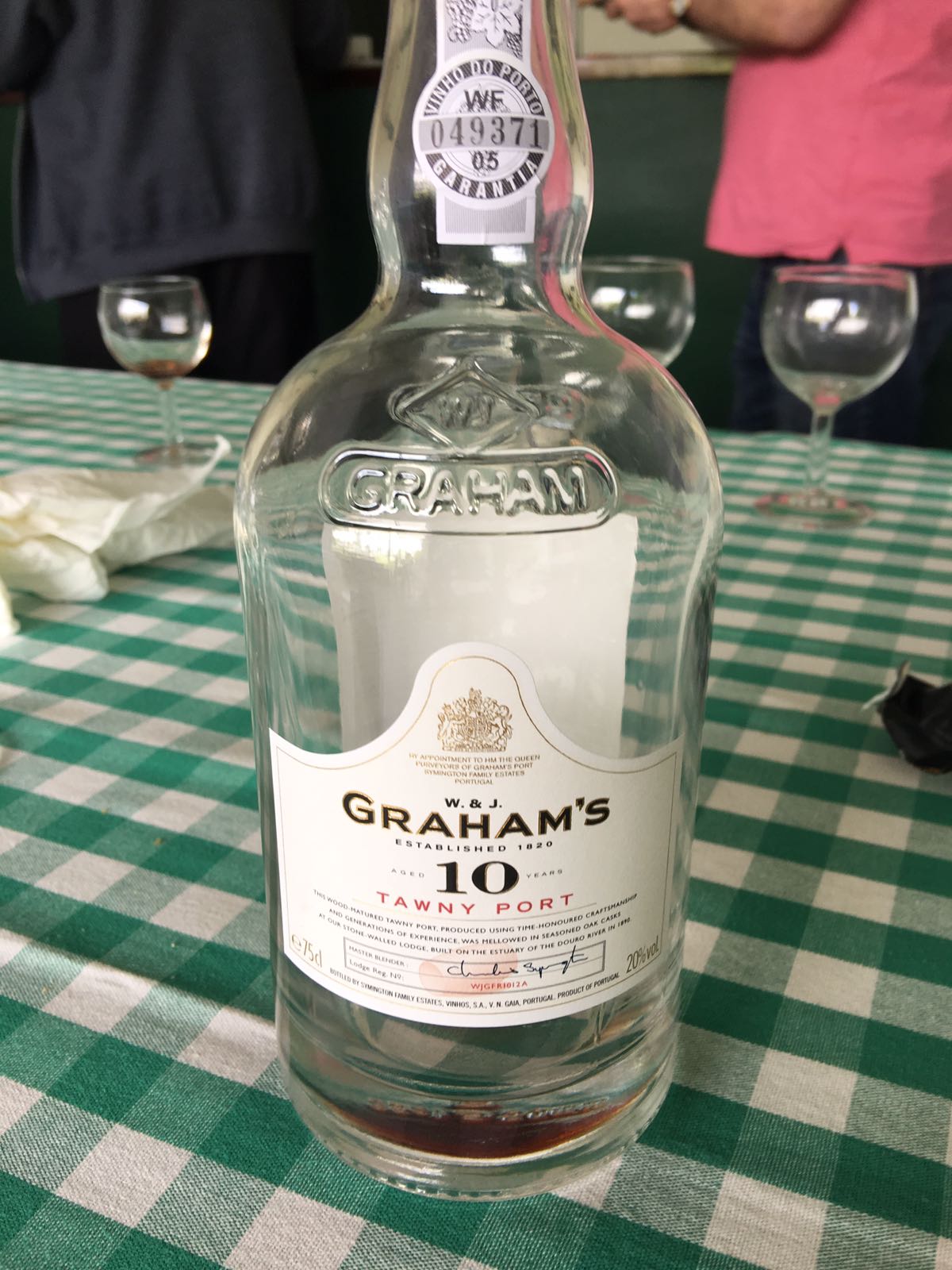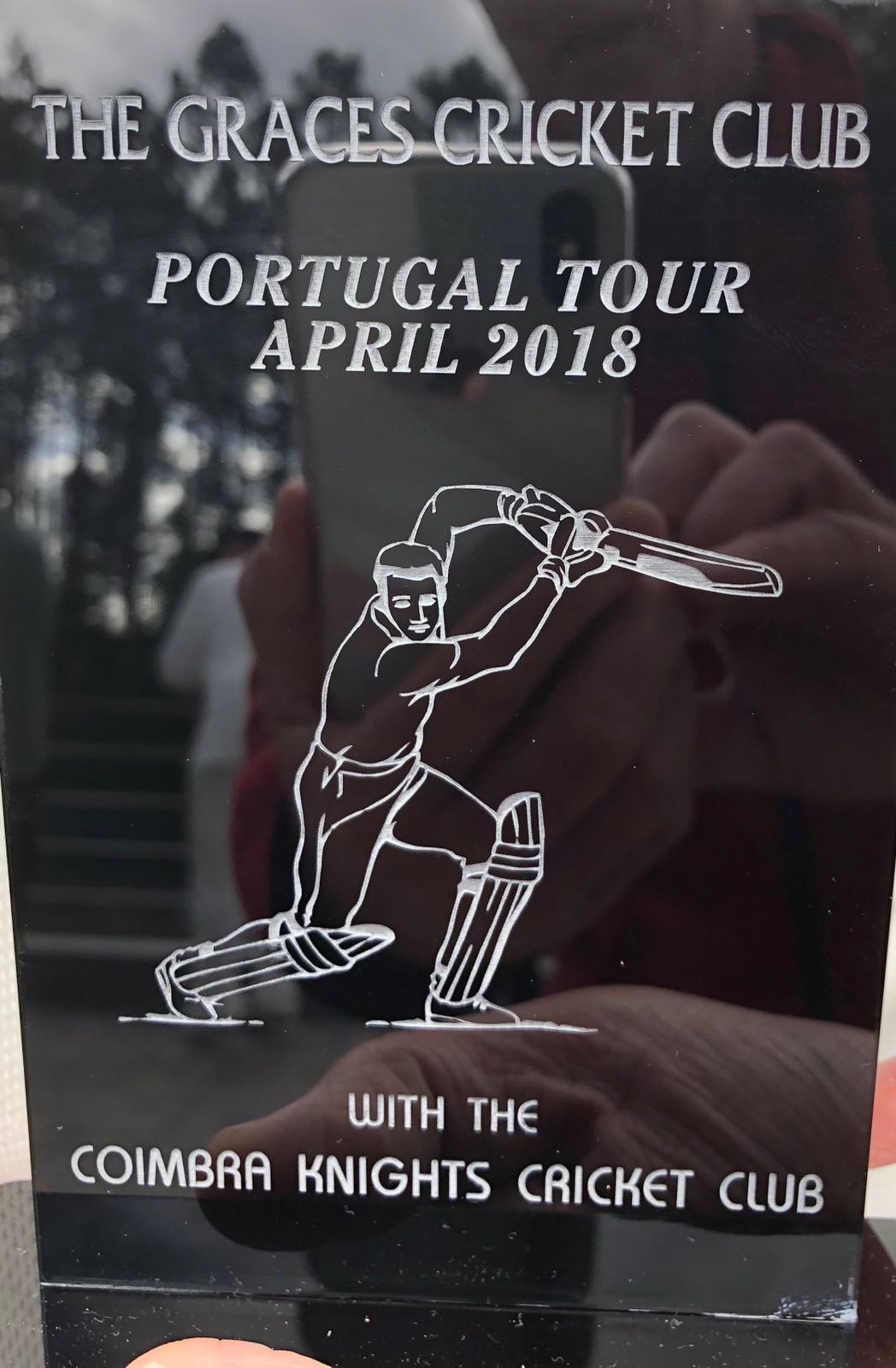 Graces had a great tour to Portugal – very welcoming hosts at Coimbra Knights and Oporto. We managed to win all four games – match reports below
Some outstanding performances included a maiden 50 turned into a 100 from Scotty plus 2 eighties from Mendis and Leo. Sam picked up 5 wickets too!
Match report – Saturday 28th April v Oporto – match drawn
Apologies my report is a bit longer than usual but it was an eventful game!
  After the super hospitable Coimbra Knights adventure Graces had an early start travelling the 90 kilometres back to Porto for an 11am start to play the Oporto Cricket Club.
The Oporto club looks like a little corner of Hampshire tucked into the middle of Porto , a lovely clubhouse (with many years of tennis tournament winners and best cricket averages displayed on honours boards) swimming pool and clay tennis courts. It's a haven for expats with British newspapers available to read , somehow the Guardian didn't feature! It has a lot of history having been set up in 1855 and regular host to one of the most historical cricket matches in existence between Oporto and Lisbon CC – the Kendall Cup first played in 1861!
So a very different set up to our first hosts and Graces were expecting a much tougher match. The artificial strip sits in a lush outfield surrounded by trees with a very cute pavilion for players to sit in , a chalkboard giving the players' figures for the season – thankfully almost all the best ones were away!
Eventually the start time arrived (11am) and Mahender made it 4 correct calls in 4 matches choosing to bat with Sam and Dom opening. The match format was unusual for us being a time game – the second innings lasting an hour and 20 overs after tea.
The weather was mixed sun , cloud and around 16 degrees. As expected Oporto's bowling attack was a step above what we'd encountered in Luso with a decent pace attack. With plenty of overs available our openers could pace themselves against accurate bowling. Lawrie continued his umpiring duties together with an umpire from the hosts.
In the 8th over Dom was caught and bowled for 13 bringing Stuart in at 3. When Sam was caught behind for 9 in the 12th over we had moved onto 38. Scott then joined Stuart – these 2 upped the pace before Stuart was LBW for an attacking 26 complete with some lovely straight drives  (76 for 3 after 19 overs)
Mahender soon fell for 5 bringing Mendis in. Together with Scotty he went on the attack. Both batsmen punished anything loose on the even pitch as the run rate accelerated sharply. The Oporto bowlers were switched around but it was really only damage limitation as the ball was dispatched to the boundary with regularity by both batsmen – it was a run fest with plenty of overs going for 10 runs or more. Mendis was first to fifty with Scotty matching him to reach his maiden Graces half century- the watching players and supporters were thoroughly enjoying the carnage.
A fine lunch was taken by players and supporters in the traditional pavilion having been delivered in a trailer towed by a tiny tractor chugging slowly over from the main clubhouse. After a leisurely intake of sandwiches and savouries Graces were all set to take the field when the cheese and biscuits appeared complete with 2 bottles of 10 year old port! The hosts are very hospitable and used to taking over a hour for a relaxing lunch. During the break Graces noticed a team photo of our old adversaries the Judd Street Tigers among the visiting teams' pennants. Eventually the teams took to the field.
The rapid scoring rate continued until Mendis was caught for a wonderful 84 in the 44th over (10 fours and 1 six) the partnership of 142 had only taken 19 overs. Jonners having been padded up for an eternity then rotated the strike allowing Scotty to get closer to the big 100. After getting a bit stuck in the nineties 2 quick boundaries took him to a magical 100 (11 fours) and the supporters cheered with delight. A maiden fifty taken all the way for a ton – surely a first in the club's history and fully deserved by our popular Kiwi!
After our centurion retired Jonners , Manish , Mamun and Leo all hit out taking our total to 308 for 9 after 55 overs – Sid was the only Graces who didn't bat. The hosts were a player short and Ritchie kindly played for them as we had 12 players with the arrival of Mamun.
As they came off the field a few of the Porto players commented on the length of our innings not giving them enough time to mount a challenge – this format is new for us.
A wicket in the second over (a catch for Leo off Manish) was not the best start for the hosts – this soon became 2 down as the accurate Sid bowled the number 3 for only 1. Nineteen runs after 5 overs.
The other opener was the friendly fresh faced Sabha who we had first encountered on Friday when he guested for Coimbra. Together with number 4 Yetin he kept the good balls out putting anything loose away. Mr Yetin hung around for 13 overs for 8 runs when he was caught by Leo at square leg. This catch was a stunner as Yetin powerfully pulled a long hop off Mahender which was boundary bound until Leo dived to his right somehow plucking it out of the air – an early contender for catch of the season!
The seasoned looking Evan joined Sabha and these two didn't take many risks as our total was beyond them but it was an entertaining partnership. Mahender rotated the bowling with only Scott and Stuart not having a go – Stuart's bowling ban was probably still in force anyway!
Eventually time was called in heavy drizzle after 42 overs with the score at 167 for 3 with Sabha on 78 and Evan on 48 both unbeaten – a winning draw!
Both teams then retired to the clubhouse for more port cheap beer and wine!