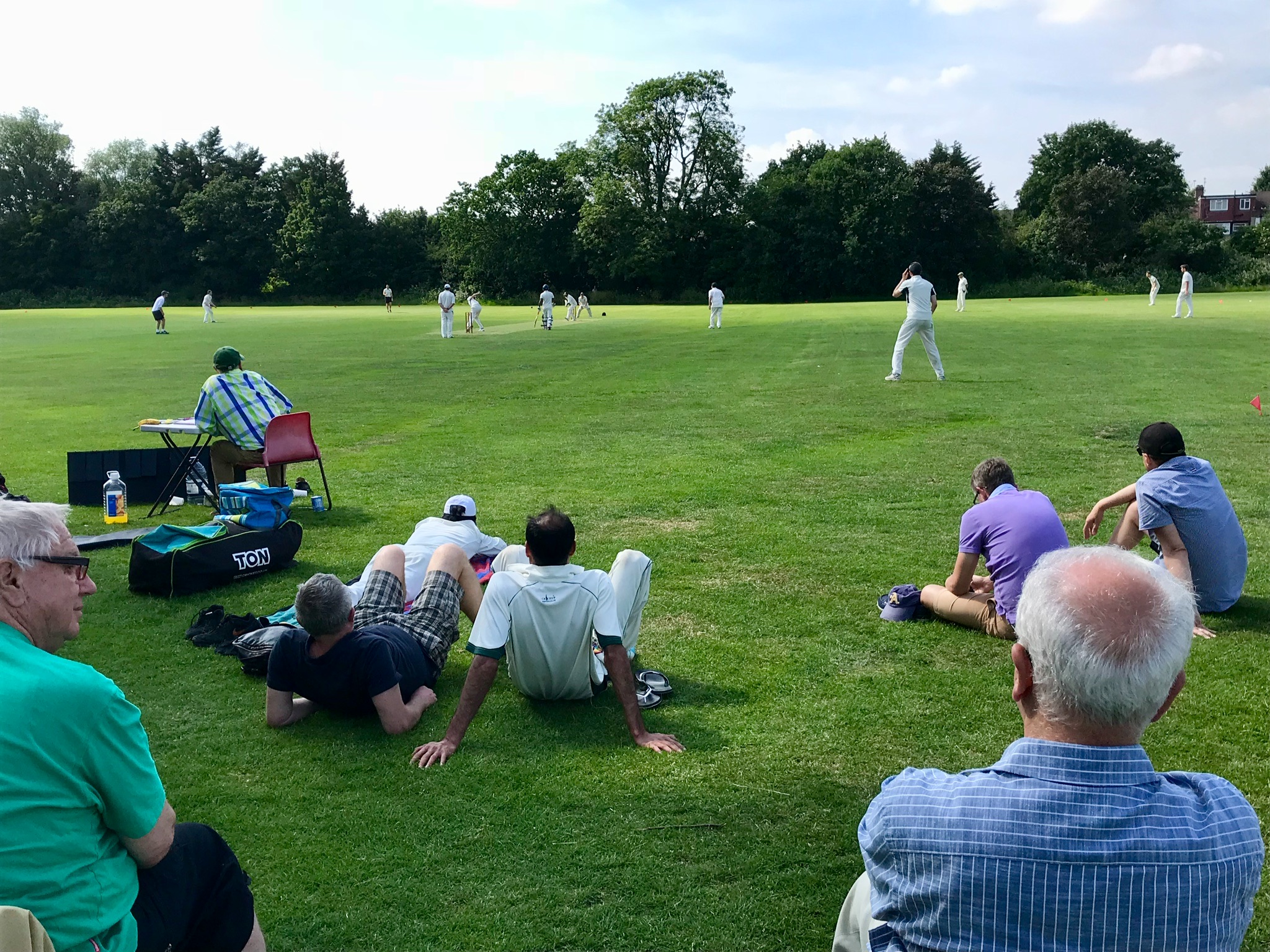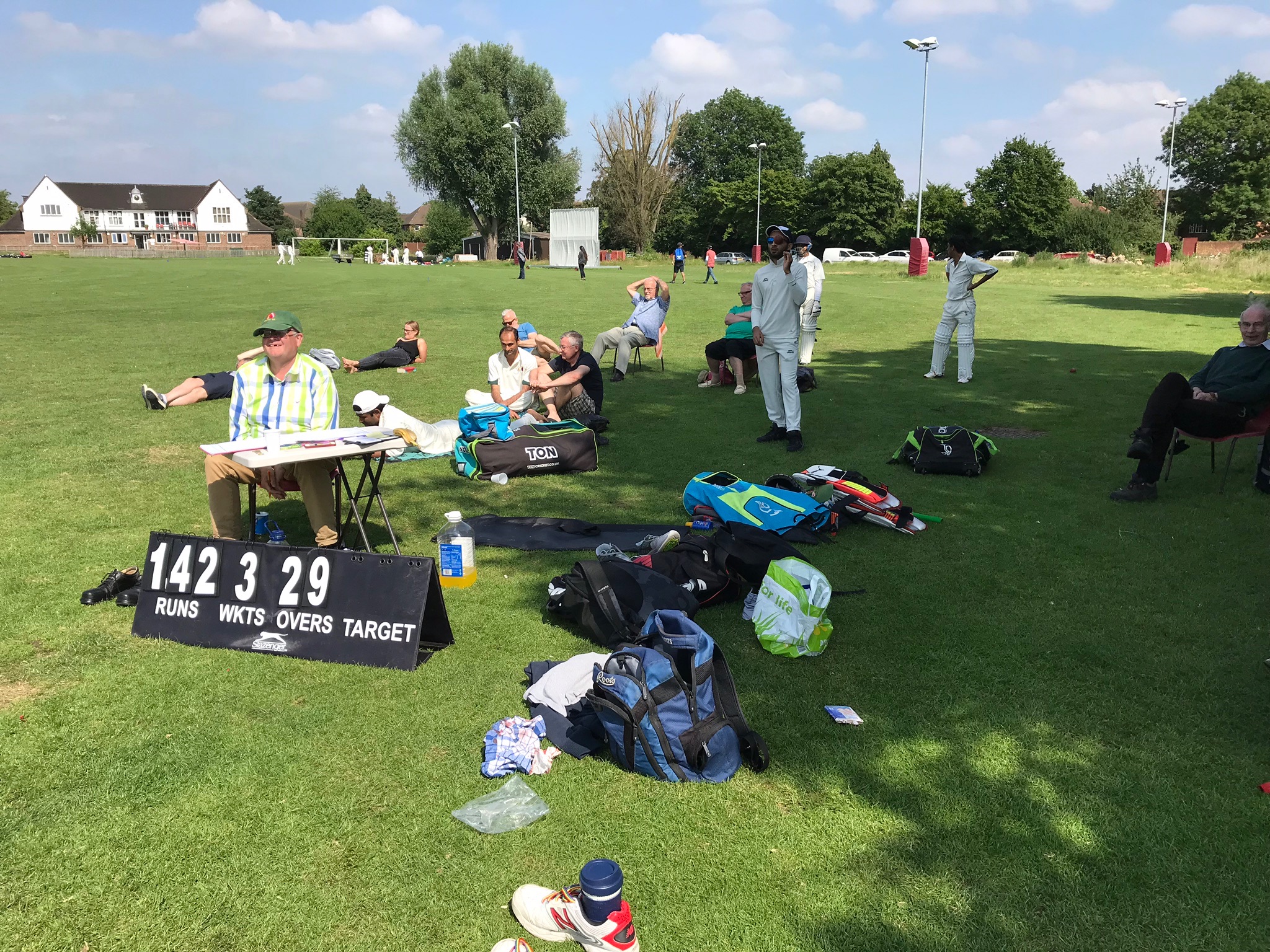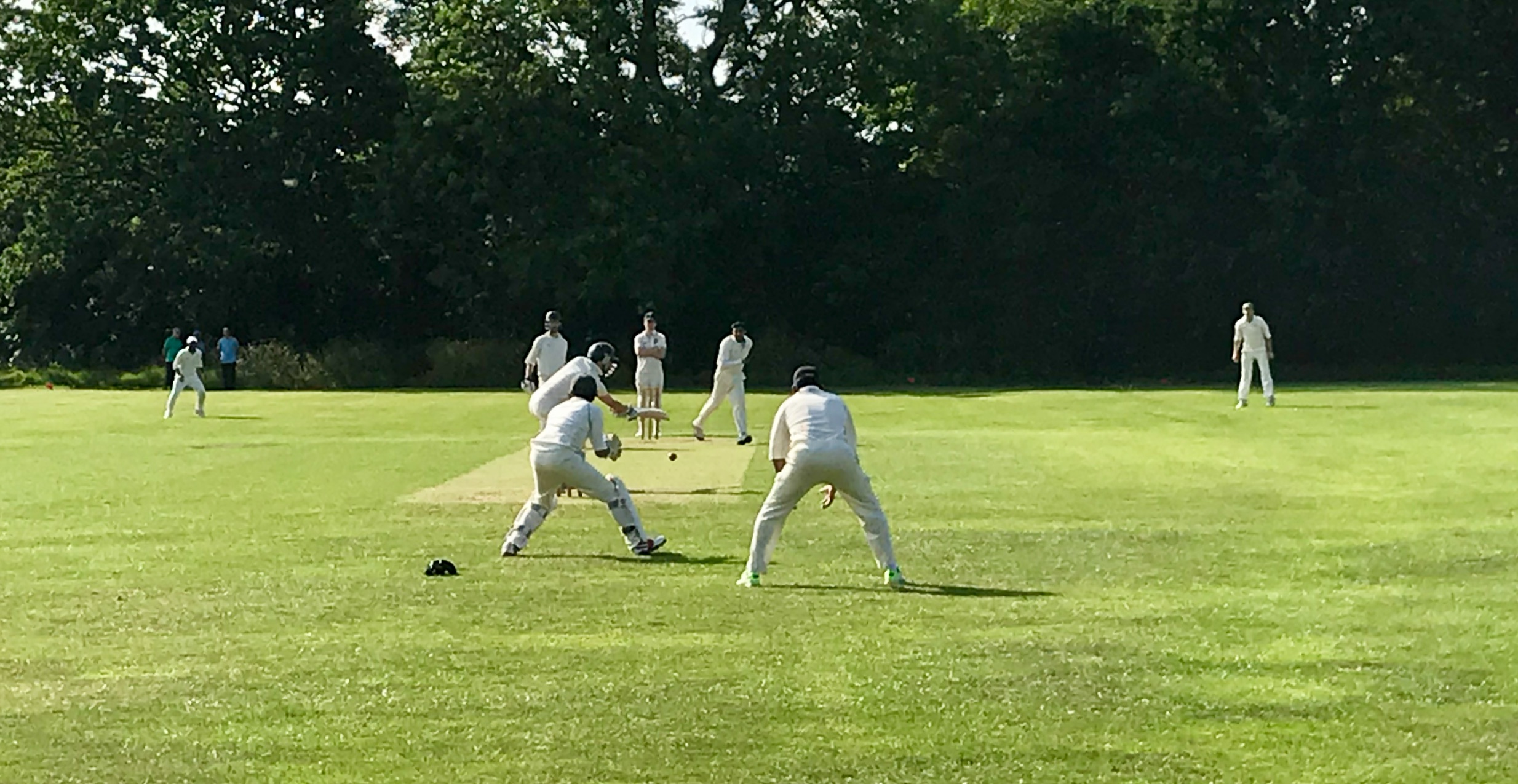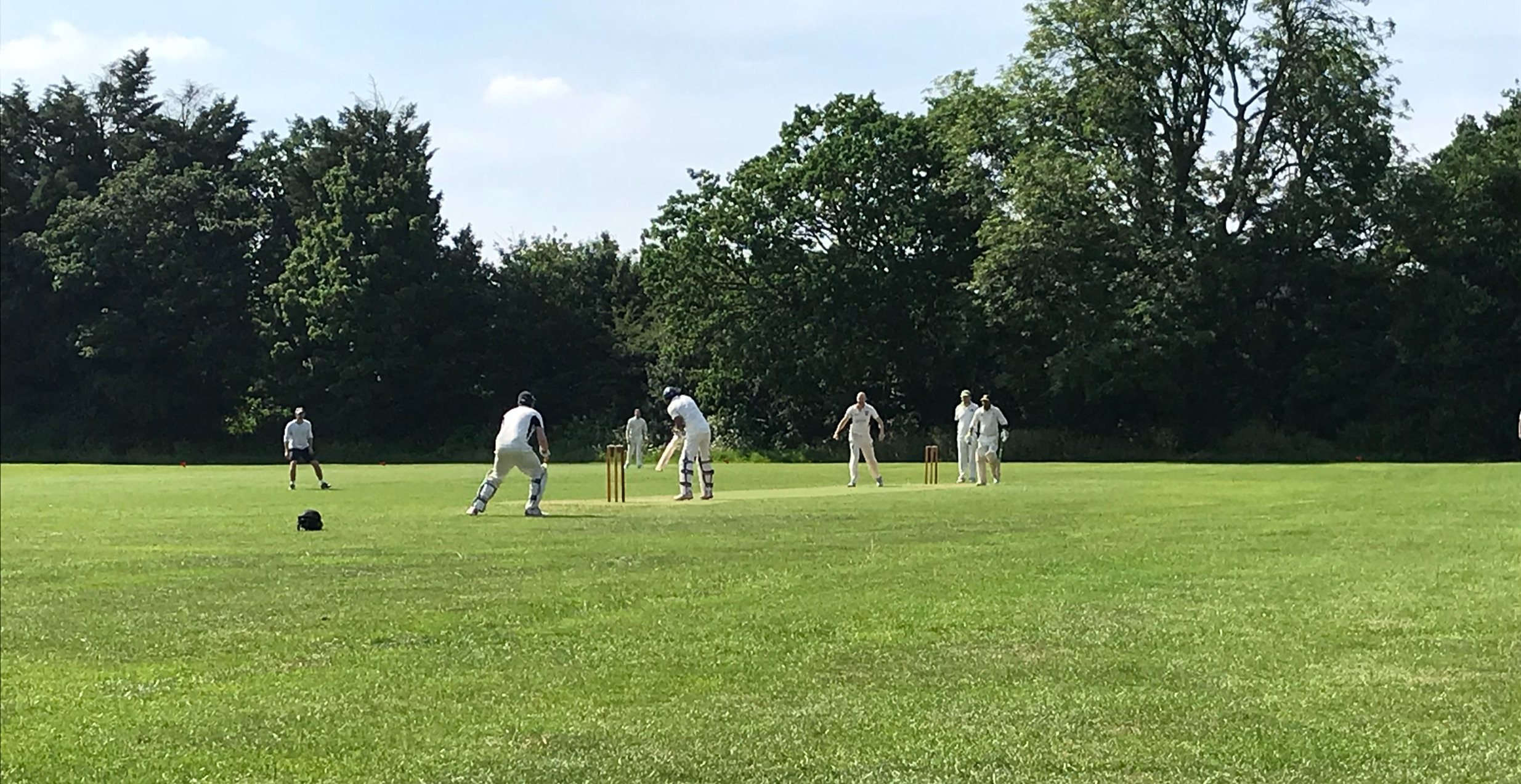 Ground details
Unfortunately Winchmore Hill messed up our booking so we are returning to Greenford;
Birkbeck Avenue
Greenford
Middlesex
UB6 8LS
Match report – thanks to Colin once more
Cricket – a gentle sport for a Sunny afternoon

Today we entertained our friends from Roehampton Bats on the middle pitch at Greenford. There was already a pair of excitable teams playing a long match on the first pitch so we were forced into a narrower boundary at Clubhouse side.  Mahender was told we should bat after the toss, usually a preference anyway and he opened this week partnered by Jonners. Opening bowlers for Bats were Robin and Killer James Hunt.  One of the first contacts Mahender made was a fulsome 6, indicating a determined outlook.  Jonners was in support and after a recent second single was ready to pass the strike when out of the blue the ball must have found a rough bit of crease and viciously bounced up catching him in the face by his nose causing some nosebleed and immediate retirement.  After plenteous concern and attention the game went on but most wore helmets from then. Jonners concentrated on rest and observation before heading home later after tea. This had brought in Leo who had two rapid boundaries but in trying to improve the over rate from 3.6 was marginally run out on the return of a pair. Dom followed passing on strike but with new bowler Leo Watson spinning he was LBW for 6 all too soon. Mahender meanwhile had reached 30 of the 62 to date.

Stuart had joined in now and as ever was keen to run at every opportunity but shortly after Mahender reached 50 (2×6 and 6×4 in 69 balls) Ed Davidson induced him to sweep high to Backward Point where Ryan had safe hands and was gone for 9. We had at least reached 80 at drinks this week. Just before Stuart departed he had broken his bat but never got chance to really capitalise on the newer kookaburra. Mendis was now in opening with two boundaries off Mark Evans so Mahender scattered the many supporters with  six off Ed soon after.

It was another forceful drive forward from Mahender that then was blocked unintentionally by the running Mendis and he took a hefty blow to his ribs. After attention he carried on but may yet still need a check up as the bruising and pain develops and indeed by the time he was caught by Robin at long on off Ed he had a "high score" of 23.  Newton followed but after a boundary and others was the second victim of Watson, bowled for 7. Niroshan opened with a single but having been passed the strike back connected with a fairly high ball only to find Mark awaiting at Long On.

We seemed to be faltering but Manish was in and like Stuart very keen to run, almost too keen but the milestone here was resounding applause for Mahender as he reached the Century  (4×6 and 9×4 in 107 balls). Soon though Manish was caught by Mark at Extra Cover again off Watson and a score of 184. Sam was in with some singles but Mahender only seemed to know what boundaries were and so when Sam was Run Out the score was now 213. Final entrant was Mamun who just needed to last through eight balls maximum and in fact after the opening ball of the last over being a single from Mahender, he had seven faced and to almost a standing ovation he was 13 not out – .4.4.4 1 but of course the ovation was really for Mahender who had carried his bat and with no let up of pace closed on 125 in 118 balls, (5×6 and 13×4). 227 was a tough score for Bats to face after Tea.

In this interval, would like to express thanks to Nadeem who is the sponsor of this week's match ball. One of the last matches he played in our team he scored 118 so will identify with today's innings. He does not get opportunity to play much for us these days but has provided valuable coaching when being with us.

Thanks also to yet another roll call of spectators during this match which included Ronnie who became substitute and allowed to bowl by agreement, Augusto, Damien, Jeremy, James, John, Matthew, Pauline, Phil, Simon, Tom and Sam who helped keep the scoreboard display up to date.  The Bats had just one girlfriend alongside that I noticed.

On resumption we considered the score achieved, which in actual fact had been held back by some comprehensive fielding,  often saving a boundary but then Bats did seem a younger team overall featuring four P.E. Teachers so we still needed to bowl tightly to stop them  racing quick runs between the wickets.

Newton and Manish opened with three Maidens so there was only one run scored and two byes by the time Manish caught and bowled Ed Davidson before he scored. Newton countered next over by also caught and bowled Ryan Pepperell who only had a boundary in credit. Adam Thew was in next and piled 4 boundaries swiftly to reach 16 but he was bowled by Manish. Amusingly at this point one of the other team thought the departure was the other opener Sam Nelson who was on 4 but it was Adam gone. Marc Evans lasted 13 balls of his own but was bowled by Mendis  then Bob Tinsley  was in as Mamun had a bowling spell but all too soon was caught at Long Off by Stuart. So at 17 overs they were in touch with runs but well behind on wickets.

The middle order pair was now wicketkeeper Nick Williamson and Sam Nelson who upped his game and reached his 50 after 72 balls. Sam and Ronnie were the players bowling leaving our all rounders to come in later if needed.  Although Nick got up to 48 as well he was struggling and did not want a runner so retired at the end of the 33rdover.  Mahender had a late bowl as Bats were still matching the run rate and in his second over bowled Sam Nelson for 63 and Manish soon got his third wicket as James Hunt played onto his wicket.  All this activity was not the moment for the rickety score table to collapse and thanks to those who rallied to get it back in place while I continued to look at what was going on. Victory was closer now as Rob Goodman and Robin Maitland were not displaying confidence and Manish bowled Rob for 8 finishing his spell  8-1-18-4.  Newton took the ball again and although Robin got to the shorter boundary, Newton bowled him next ball.  Leo Watson was also in, surviving the last balls from Manish and in desperate hope Nick Williamson returned but added nothing as Newton bowled him immediately and the match ended.

They did well to chase our mighty score with the 180 in response but another week of solid team play contained them and all that remained was to award Mahender Man of the Match given his excellent batting this week. Pretty sure this was his first Century with us.

Newton would be happier this week as he again took wickets – 34-3 and other bowling was Mamun 25-1, Mendis 13-1, Sam 46, Ronnie 33 and Mahender 8-1

Next week is a longer expedition to the southern M25 Boundary as we play at Chaldon Cricket Club, this is another fixture that arose out of our Sky Sports Publicity. I hope the wicket is not so deadly and helmets will be carried for sure.  Fortunately at the latest feedback  Jonners reports mainly bruising and we wish both Mendis and Jonners rapid recoveries.

I also close with a plea to our cherished friends or indeed those who play, as we value having the match ball sponsored and it is a way to identify with the team in play.  If you would like to join this donor group, please contact Jonners, Mahender, Leo, Nadeem or Colin. A donation £10 or £15 of makes a great difference to our costs.  More than once this week, there were interludes of great searching for balls lost in the lush undergrowth surrounding the field and amazing how Stuart often emerges triumphant from bushes at these times.