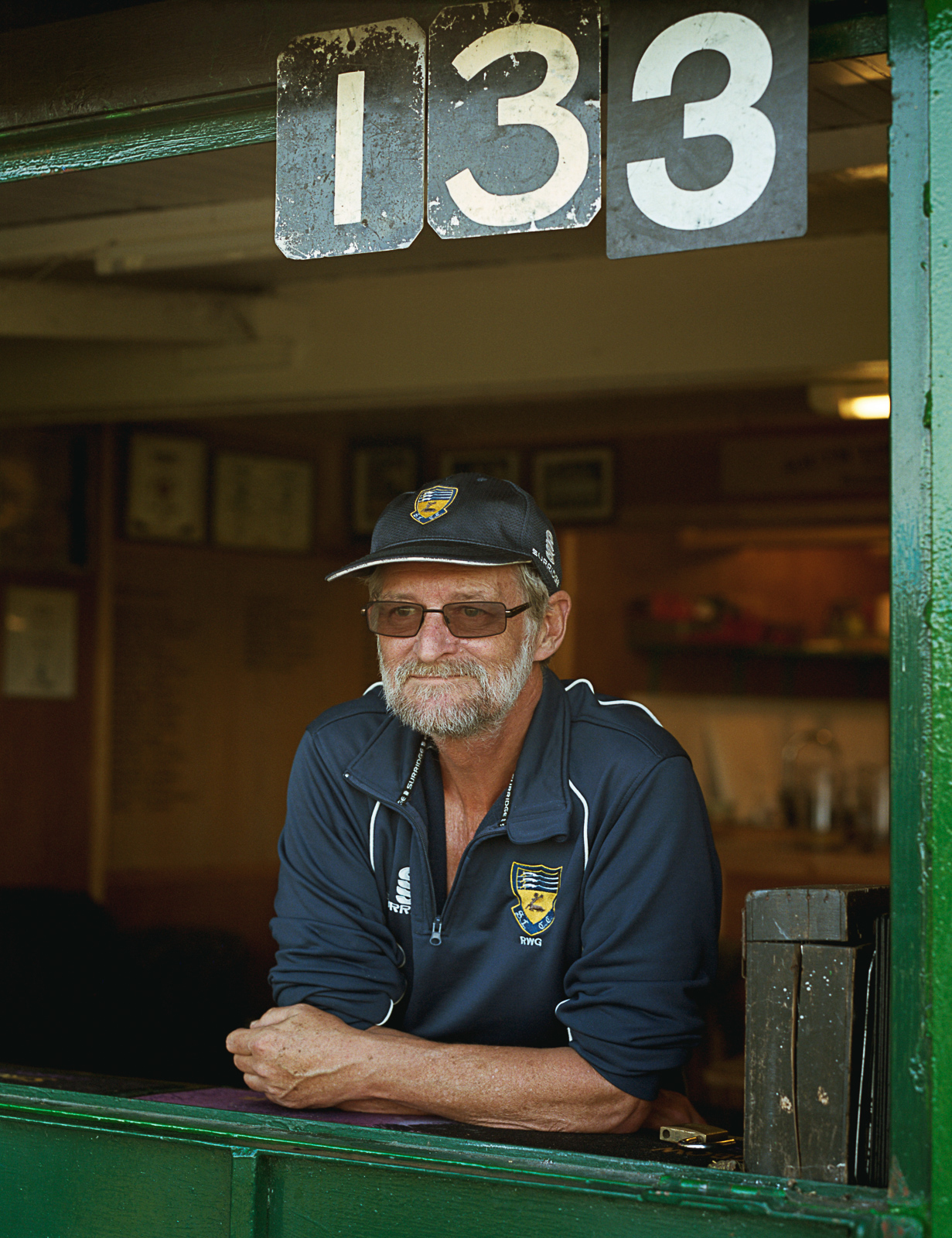 Venue; The Cricket Pavilion, Roding Rd, Loughton IG10 3BS
Match Report
Essex expects a great contest and was not disappointed
Today under the first captaincy of Manish, a regular VP, we made another trip out to Loughton but this time it was a clear bright day as often we have been over there at season ends.  A junior match was just finishing and Manish took the toss with Ahmed, won and elected to bat first.
The match ball for today's match was kindly sponsored by Pat Sopp, a long time supporter of the club
Dom and Scott opened against the bowling of regular captain David Smith and Lloyd Mann. To start the wicketkeeper was Mustafa Zaheed. This however changed to Sam Hill who got a nasty knock to his ankle and finished with Aleef Hossain. This was tough going and it took five Maidens and the 10th over before Dom got a first test of the boundary and we were at 20 after 11 overs. The bowling changed to Murali and Aleef. Aleef bats for one of the Saturday team but is not said to be a regular bowler but he bowled Scott second ball who had reached 11 at a faster strike rate. His balls could move and carry leading to a boundary bye and in his third over he induced Niroshan to an edge which Sam Hill in slip did well to retain with outstretched arm.
Neil followed and was gone second ball, which brought in Newton. That ball swung in with such force it damaged the upper stump. Hossain struck again in his 4th taking Dom's wicket but had acquired 14 with another boundary on a no ball from Murali. Time now for Paul, a Stonewall Football contact to step up, looking forward to his game but little recent experience and he did score a couple but by his sixth ball, it was once again Hossain capturing the wicket. Leo came in and reprised Neil so at drinks we were 39 for 6. Manish told everyone to keep up their spirits and we set out to try and recover some prestige. Murali gave way to Arun Farthing and he was soon joined by the inimitable Andy Battle so there was some chance to score runs and accept extras.
Newton and Manish faced this with gusto, both knowing when to push for the quick runs and punish fielding errors. Not to say eagerness on more than one occasion did not create run out opportunities causing Manish to almost fly back to the wicket in the 30th over but they did not have the direct hits and gathers to catch the pair out. At this point Sam left the field for a few minutes and ice pack so Neil subbed as fielder preventing more boundaries. The aerial style from Andy is designed to get a ball sent high for a catch but Newton took three sixes and more from him, two them being consecutive Cow Corner drives and the other marginally missed a supporter near the pavilion who was watching her phone and oblivious to the efforts of waiting batsmen trying to deflect the flying ball.
It was now Andy's last over, no. 36, when his ploy worked and David Smith was in plum position at deep Square Leg to capture Newton for an amazing 64 and a partnership of 128. All the milestones were reached in consecutive balls in the 34th, 100 partnership, Newton 50 and score 150. Jonners came to try and see the innings out, now facing the return of opening bowlers. Canny shots got through the tight cordon and it was last over before Mann had Manish, probably not aware he was on 48 and us all willing Jonners to pass the strike before the innings concluded, hooked one over to Square Leg and David Smith was in closer and took it comfortably. Yousuf came in but Jonners has crossed and took the final ball for a single to make 6 and incredibly the score had soared to 183 for 8.
Tea is always a pleasant affair here and very much enjoyed and all were able to catch up with the early Test result  as well as check on Counties.
Newton and Neil were our opening bowlers against Billy Soomro and Mustafa Zaheed and with few boundaries the first 8 over spell was contained at 29. Manish and Yousuf were the next pair, Yousuf first outing this season and recovered from injury that plagued last year. Billy swiped at his second over and Manish moved across well to catch at Mid Off, one gone with 12 but replaced with Ahmed Chughtai who is a regular slogger. Yousuf in his 4th induced Zaheed and it was Neil at Mid On who made sure that catch was secured and so he was gone for 35,  64-2. Neil now had another spell including a much prized maiden and it was time to give Paul an opportunity. As with many, he struggled for early consistency and was slaughtered in his two overs but for all the delight of the batsmen, he was getting some on a good line and his last ball accounted for the wicket of Liam Hill who had rapidly amassed 21. This meant we were a lot more content to go to drinks at 102.
As Neil completed his spell for 28, Ronnie came in for a full spell and continued the progress seen over this season to end on 24-2 but that is jumping way ahead.  In his first over he bowled Sam Hill for 1, Sam had replaced his brother Liam and so Arun Farthing  was next up. Newton returned for a final spell and soon had Arun LBW for 6 but Ahmed was still steadily accumulating with Murali just passing on the strike. Newton was complete and Manish was next to head to completion and in his second of the spell tidied up Murali with a well held caught and bowled. With 5 overs remaining the match was finely balanced with Loughton requiring 26 to win and four wickets remaining. Ronnie improved this balance in his final over as Manish made a fine catch at Mid Off again to remove Ahmed for 43.
Mann and Hossain parried but Manish bowled Mann for 8. 13 required in the last two overs and now David Smith was in and going for every opportunity. It was a real head to head against Manish with every run scored off the last over of Yousuf making it more and more tense and their team now updating the big clunky rotary board on every run.
Manish would not give up and on the penultimate ball of the match he bowled Smith and the score was 182.  All rested on Andy Battle and bowler Manish. Any extra would tie or lose the match. If the ball was hit would it be enough to tie or win the match. Surely Andy would not relish running two under pressure unless he could make a boundary. Manish bowled, a dot ball just parried and victory was ours. At almost 8pm, this match that started with such a low score turned around by Manish and Newton with team back up holding back South Loughton in their innings was complete and for the second week running the result was all on the last ball, but in our favour.
The result shows we have depth in our players even if it was a struggle to know there would be a full team before Sunday. Manish did a fine job stepping up. He also graciously acknowledged advice from fellow team players and kept spirits up when they could easily droop. We had chance to welcome and develop players against a familiar but worthy opposition.
There was one poignant touch to the day, many players and others sported a black armband as respect for the recent death of Newton's father. The team acknowledged him before the game and gave Newton backing and he shone through in style with his bowling, his fielding and a great score when needed so despite the attributes of Manish evident, all were pleased to see Newton Man of the Match.
Next week, we revisit Greenford and host Roehampton Bats in  a full 40 over match. They may be on high after game T20 win but in friendly engagement we look to continue our achievements.  One for the supporters indeed and thanks to those who made the visit East this week that included Augusto, Jeremy, Matthew and Simon.